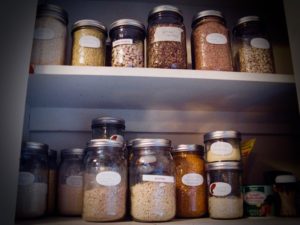 I've recently realised that my wife has been gaslighting me through the medium of food. It's been going on for almost a year now; maybe longer. I felt that something wasn't quite right but I couldn't put my finger on it.
'What's wrong?' she asks, as she passes me in the living room. (I'm clearly not looking my usual self.)
'I'm hungry,' I say.
'Well, there's plenty to eat in the kitchen.'
'I've tried,' I say. (There's nothing worse than rummaging through cupboards in search of food and only finding ingredients.)
She rolls her eyes. 'How did you ever survive before me?'
'By purchasing actual food,' I say.
'And what do you think is in those cupboards?'
It's a good question. Though she's gone to the effort of labelling the various shades of dust that she keeps in the glass jars that sit where once there were recognisable sources of nutrients, I'm none the wiser. 'I really have no idea,' I say.
She leaves the room and returns a moment later with a plate of homemade brown discs that I swear weren't in the kitchen amongst the other fifty shades of beige a few moments ago. She places the plate into my hand. 'Biscuits,' she says.
I look down at them. 'A biscuit? Without chocolate? That's pretty much a vegetable, isn't it?'
* * * * * * * *
And there it is, the textbook definition of gaslighting: scratching away at my ability to feel I can look after myself, before coming to my rescue with biscuits. I'm onto her.
A year or so ago, I happened to mention that I hadn't seen my feet in a while. I had of course noticed them in the distance, occasionally stretched out on the other side of the sofa from me, but I'd been quite literally seeing less and less of them during my more vertical moments.
'Well there's an easy answer to that,' she'd said.
'Really? What?'
'Diet.'
She'd sounded all reasonable, explaining that diet did not necessarily involve eating less. 'It's more to do with what you eat,' she'd said.
'Will you help me get back in shape?' I asked, naively.
'I'll try,' she said, cunningly and opportunistically.
And this is where I began to lose touch with my understanding of food.
'What have you got in your lunchbox?' ask my work colleagues.
'No idea,' I say, pushing around the elements beneath the lid with my fork. 'I think that may be a piece of lettuce?'
There's a saying that goes something like, Hang around the barbershop long enough and sooner or later you're going to get a haircut. Having spent over a decade with Nat, I guess it's inevitable that I'd fall into some form of hybrid-veganism at some point. I'm not against the idea, I'm just wishing that it came with some form of instructions.
'Nat, what did I eat for lunch today?'
'A butternut squash salad, with arugula and walnuts.'
'Are you sure that Arugula isn't a Greek island?'
'Arugula is a cruciferous vegetable,' she informs me, as if I should know this.'
' … Nope, didn't get a word of that,' I say.
Mine wasn't an enlightened childhood when it came to food. Most of the meals I was given were covered in breadcrumbs and accompanied by baked beans and some form of fried potato shapes. It's unlikely I received the recommended daily intake of nutrients as set out by the World Health Organisation, and as far as my 'five-a-day' fruit intake was concerned … well, I came from a family that kept replica plastic fruit in the fruit bowl. Who knows, with a better diet during my formative years, I might have grown to be six feet four, as opposed to my current height of not six feet four.
* * * * * * * *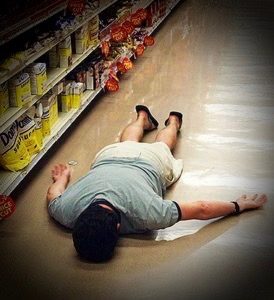 Nat tells me that my lack of ability to feed myself is purely my own fault, for being too lazy to take the time to educate myself.
'Cheap shot,' I say. 'You only buy enigmatic ingredients.'
'Enigmatic?'
'Yes, vague ones. Ones that don't easily give away their purpose. Enigmatic like the smile in that painting where you don't get to know whether Mona Lisa is giving you a coy come-on or whether she's quietly thinking you're an idiot.'
'What's coy about quinoa?'
'See, there you go again, getting all Waitrose on me!'
This is only a step away from the nicotine patch trick where one waits for one's partner to fall asleep before gently covering their entire body in nicotine patches, and then slowly peeling them off again before they wake, thus ensuring that the withdrawal they experience throughout their day is confused with dependency on you. (Yes, I've thought this one through.)
I've recently realised that my wife has been gaslighting me through the medium of food.
* * * * * * * *
____________________________________________________________________
IF YOU ENJOYED THIS ARTICLE, PLEASE CONSIDER SHARING IT ON YOUR SOCIAL MEDIA PAGES FOR OTHERS TO ENJOY TOO. (Even us poor writers have to eat!)
YOU CAN ALSO FIND MY TWO CURRENT BOOKS, *Random* AND *The Sat Nav Diaries* ON AMAZON: https://www.amazon.co.uk/Adrian-Sturrock/e/B07QQDZMKQ?ref=dbs_p_pbk_r00_abau_000000
____________________________________________________________________