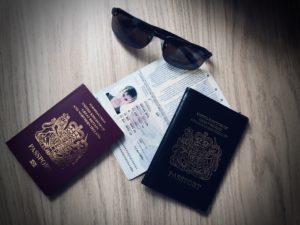 'Did you sort out your passport, today,' Nat asks, as she comes in from work.
'Turns out you can do it all online,' I say.
'I know,' she says. 'So, did you do it?'
'I made a start.'
'A start?'
'I got as far as the bit where they ask you to take a picture of yourself.'
'Did you have difficulty uploading it?' she asks. 'The site was being a bit temperamental when I was renewing mine.'
'I didn't get that far.'
'Why not?'
'It was my face,' I say. 'My face was being temperamental.'
Nat stops what she's doing and looks at me. 'What?'
'My face has been stuck on ugly today … I'll try it again tomorrow.'
'Why will it be different tomorrow?'
'… I don't think I like your tone,' I say.
* * * * * * * *
There are a lot of rules to taking a passport photo. You have to look straight in at the camera, no smiling, must use clear light only, no sunglasses or hats. I'm guessing Photoshop is out of the question, then.
'Whatever I submit I'm going to be stuck with for the next ten years,' I say. 'Like last time.' I hold up my present passport picture to remind her. 'I don't think that sniggering is a very supportive gesture,' I say.
'Nobody looks great in their passport photo,' says Nat, 'I think the deal is that you're meant to look a bit like a dishevelled criminal caught in the act, it saves the police and the media time and effort later, should you ever have reason to go on the run. Then, it's just a quick copy and paste for them, for the "This man is dangerous and should not be approached" posters.
'Well, I'm not dangerous,' I complain.
'You have been,' she says.
'I don't think leaving the hairdryer plugged in all day constitutes 'dangerous',' I say.
'I think we should leave that up to the insurance company to decide,' says Nat.
'One time,' I say. 'One bloody time.'
' … Twice,' she says, then quickly ducks out of the room before I can argue further.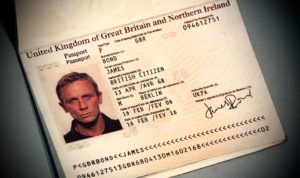 * * * * * * * *
This morning I get up early. As soon as Nat leaves for work, I reach into the bedside drawer and take out the home hair-dye kit I bought yesterday.
While I'm in the shower, I think back to when my friend, Jon, got mistakenly arrested for a robbery he didn't do. They let him keep a copy of his arrest photograph.
'You look like your own photofit,' I said, looking down into the pic he brought to the pub with him.
'I was in there a long time before they took it,' he said, 'I fell asleep on my hand.'
I've left the dye on a little longer than I meant to. It's gone too dark. I wiggle my hair around in the mirror – as if wiggling it will make it lighter again. I note that my skin now looks quite pale, in contrast to it.
In an attempt to bring back a degree of balance between my hair and face, I reach into the bottom of my wardrobe and take out the spray tan I bought in preparation for our last foreign holiday, the one that I then forgot to pack, rendering me the number one most translucent body on the beach that year.
By 2pm, I have a worryingly orange face to go with my overly darkened hair. I look in the mirror again and am instantly reminded of what despair feels like. I look around the room for any inspiration I can pull out of the air, to limit the damage already caused.
I quickly realise that changing my shirt isn't going to be the answer, and so am forced to pursue a more radical approach.
'Where's your mum's make-up bag?' I ask the cat, who has now entered the bedroom and is probably wondering who this total stranger standing in front of him is.
I lean into the mirror. Maybe if I thin out my eyebrows a little with these tweezers it will detract from the heaviness of my hair colour.
It's 5.30pm when I hear Nat's key in the door. What am I going to tell her? I avoid a final brave look into the mirror and, instead, opt for a different shirt.
'Hello,' she shouts up the stairs.
'Hello,' I shout back.
'It was a crazy day at work, today,' I hear her say, as she takes off her coat and starts her way up the stairs. 'First off, there was a traffic jam on the way in and then … (as she enters the bedroom, she catches sight of me and pauses) …Who are you?' she says. 'And what have you done with my husband?'
'Your husband is temporarily unavailable,' I say, as I look up from where I'm sat on the edge of the bed, where I'm fairly convinced that I'm looking like something resembling a dejected clown.
She comes a little closer to take me all in. '…Oh, my …,' she says, and places a hand over her, quite frankly, unsupportive smile.
'I know,' I say.
'And did you sort out your passport?'
'I sent in a picture,' I say.
'Really? … Oh, my'
* * * * * * * *
Three weeks later, I receive a letter from the Passport Office. It informs me that they were unable to process my application.
Alongside the letter, they have enclosed a leaflet outlining what is and isn't acceptable as a passport photograph. The list includes the usual things: I must look straight into the camera, no smiling, must use clear light only, no wearing of sunglasses or hats, etc. At the bottom of the page, someone at the passport office has run a highlighter pen over the words, 'No use of Photoshop or similar'.
'But it's … How absolutely bloody rude!' I say.
* * * * * * * *
____________________________________________________________________
IF YOU ENJOYED THIS ARTICLE, PLEASE CONSIDER SHARING IT ON YOUR SOCIAL MEDIA PAGE FOR OTHERS TO ENJOY TOO. (Even us poor writers have to eat!)
YOU CAN ALSO FIND MY TWO CURRENT BOOKS, *Random* AND *The Sat Nav Diaries* ON AMAZON.
____________________________________________________________________