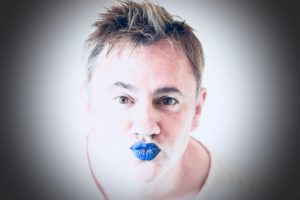 I was very disappointed earlier this week to find that I'd eaten the entire pack of Maltesers that I'd bought for the cinema before the main feature had even started.
'I don't think they put as many of them in the box as they used to,' I say to Nat, shaking the empty container upside down to help illustrate my point. 'I also think that the adverts go on far too long.'
Nat seems to feel adequately justified in reducing this frankly chilling example of big business manipulation of us proletariat to simply referring to me as 'a ravenous pig-child'.
'That kind of attitude does little to stem the march against us by the larger corporations,' I protest.
She is clearly out of her depth on this issue and reverts instead to merely locking eyes with me while reaching into her handbag and taking out her own chocolates. 'Mmmm!' she says, slipping one into her mouth.
'Today, it might be chocolate,' I warn, salivating slightly, 'but tomorrow it may very well be … whatever Orwell said.'
I feel I have managed to retain the moral high ground here, even if I haven't managed to retain my Maltesers. (I seem to have mixed feelings about this, however, and take one last look inside the empty box, just in case.)
* * * * * * * *
Eventually, the main feature starts. I'm rather glad that the lights have dimmed further, as my lips are currently bright blue from the raspberry flavoured iced drink that I've been guzzling to relieve myself of the overwhelming thirst that wolfing down an entire box of chocolates has left me with.
I look at the empty plastic drinks cup. 'Do you think that Mr Malteser also owns this drinks company?' I whisper to Nat, holding the cup up in front of her.
'Shh!' she says, lowering my hand.
'I wonder whether Maltesers are actually just a deliciously cynical ploy to get us to consume more of the company's drinks products.'
'Shh!' she repeats.
'Shh!' says the lady sitting to my right.
'Sorry, lady,' I say. 'Sorry,' I whisper to Nat. I put my cup down and decide to concentrate on the film.
After a few moments, I'm feeling a little confused. 'Are we watching the right movie?' I ask.
'What? Why?'
'Is this a Harry Potter film?' I point to the character currently on screen.
'No, that's Ed Sheeran,' Nat says, slapping my hand away from her chocolates which, I have noticed, are currently nestled invitingly on her lap. 'Mmmm,' she says, looking directly at me as she pops another one into her mouth.
I pretend not to care.
* * * * * * * *
The film is quite good. It's about how a band called Oasis wouldn't have existed if an Indian guy in Suffolk hadn't fallen off his bicycle. A novel premise, I consider, that is bound to appeal to any Liam Gallagher denier. So far, the movie has grossed over $57 million, which leads me to conclude that Liam must be disliked by an awful lot of people.
I hear rustling on my right. The lady beside me is tearing open a large bag of peanut M&Ms. I smile at her but she doesn't offer me any. 'It's ok,' I whisper, 'I'm full.' She doesn't smile back. I don't think she heard me.
To its credit, the film is well researched in that it also touches on the inspiration for Oasis: a black and white band called The Beatles who, apparently, want to hold your hand. The songs are mostly nice, and we sit through the end credits while most other people are leaving, so that we can hear more of them.
'What did you think?' I ask, as the lights finally come up and we leave our seats.
Nat opens her mouth to speak but only smiles at me before looking away.
I've heard it said that behind every great man is a woman rolling her eyes, and we are no exception. (Well, perhaps I am!) I think that the real reason why Nat is keeping a few paces behind me as we walk out through the foyer is because of the almost glow-in-the-dark blue lips that my stupid drink has left me with.
'I'd forgotten about this,' I say, catching my reflection and trying to wipe my mouth with my sleeve.
'Sorry? Do I know you?' says Nat, loudly, sidestepping me and walking on.
'Harsh!' I shout after her. 'Very harsh!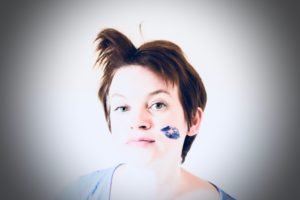 * * * * * * * *
Back home, I'm making tea for us both to take up to bed. It's not particularly late, it's just that a cup of tea in bed strikes us as a much better alternative to a cup of tea on the sofa. I listen to Nat singing Yesterday to herself as she scans the fridge for a snack to accompany her drink.
'I'd have quite liked to have been a rock star,' I say to her, 'Just for a while. Well, when I say while, I mean long enough to have earned us an island retreat somewhere nice.'
'You've done ok for yourself,' she says, kissing me as she passes me to get to the sink. 'And you've also got a Me. No rock star has a Me.'
'Are you happy to forfeit the island retreat though?' I ask, pouring milk into the tea cups.
'The island retreat I can go without,' she says, 'though I never thought I'd marry a blue-lipped husband.'
'Ah, yes,' I say, again rubbing my lips with my sleeve. 'I guess there will always be 'even-better-if' moments in life.'
She looks at me. 'You'll do,' she says, kissing me again as she brushes past me to pick up her tea. 'You know what they say, if your cup is only half full …'
'… You're going to need a smaller bra?'
She looks up at me. 'And …'
'… Sorry?' I say
'Sorry, indeed,' she says. '… You have such a blue mouth sometimes,'
'I see what you did then,' I say.
* * * * * * * *
____________________________________________________________________
IF YOU ENJOYED THIS ARTICLE, PLEASE CONSIDER SHARING IT ON YOUR SOCIAL MEDIA PAGES FOR OTHERS TO ENJOY TOO. (Even us poor writers have to eat!)
YOU CAN ALSO FIND MY TWO CURRENT BOOKS, *Random* AND *The Sat Nav Diaries* ON AMAZON: https://www.amazon.co.uk/Adrian-Sturrock/e/B07QQDZMKQ?ref=dbs_p_pbk_r00_abau_000000
____________________________________________________________________