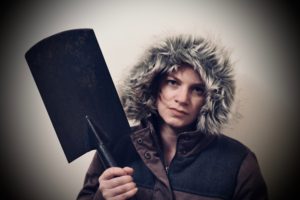 My wife is hoping that it's not going to snow tonight, in case she can't get to work in the morning. I, on the other hand, am hoping that it's going to snow tonight, in order to ensure that I can't get to work in the morning. This isn't because I'm lazy; it's because I have a low boredom threshold – and because I like snow.
There's a word for people who don't like snow (besides 'boring'); it's 'chionophobia'. 'Chion is, apparently, Greek for snow. My first reaction when I heard this was, 'But it doesn't snow in Greece. Why would they have a word for it?' But then a friend of mine, who is Greek, pointed out that Greece has its own ski resorts. The subtext to this heads-up was, 'I can't believe you're so ignorant.' His words were kind; it was his face that gave him away.
I went on to question how much protection the toga offers in sub-zero temperatures, though I have since found that the average Greek person does not wander around in a toga. I feel cheated and lied to by Hollywood.
* * * * * * * *
Nat keeps alternating between checking online weather reports and peeking through the curtains to see if there is any snow on the ground outside. According to the world of 'online', we are currently on Amber Alert; according to the real world, it's all rather normal out there.
It's a strange tradition, this need to guess the weather. It's like a weird form of gambling addiction, without the opportunity to win cash. If I was the Met Office, I think I'd simplify things by recording one basic message to play on loop: 'It's January, you're in the UK, the weather is likely to be crap. Don't forget your coat and your scrapie thing for the car.' There really isn't much else to it.
'Should I take some extra warm clothes with me in the morning,' Nat asks, 'in case I get stranded?'
I'm guessing this question is mostly rhetorical and that she is merely thinking aloud.
I pull out a selection of my mountain gear from the back of the wardrobe while she's in the shower and place it in a pile on her side of the bed.
'Thanks,' she says, as she returns to the bedroom and packs them into her small rucksack. 'What are you doing?' she asks, smiling at me across the room.
I look up from behind my laptop. 'I'm researching,' I say.
'Researching? Researching what?'
'I'm researching at what temperature the human eye freezes.'
'What? Why?'
'I'm curious. It's quite cold out there.'
Nat seems to be waiting for a fuller explanation than I'm currently giving.
'It says here that … Oh, that's disappointing …'
'What is?'
'It says here that our eyes can't freeze while inside our living body, no matter how low the temperature gets. Apparently, they're protected by a series of warm blood vessels and the heat from inside our heads.'
'And this is disappointing because …?'
'Because I was looking for a dramatic fact about cold weather,' I say. 'Sometimes, one would just like to believe in at least one good urban myth,'
'Remind me again,' she says, 'I married you because …?'
'… I'm lovely. Keep up.'
She looks at me with her very specific frown. 'If human eyes don't freeze because they're packed tightly against a warm brain, I suggest you don't venture out until at least spring.'
'Not even your tears would freeze,' I continue, ignoring her, 'because of the salt in them.'
'Oh, there's no worries there,' she says, 'there's no tears in my cold black heart.'
'That was my guess too,' I say.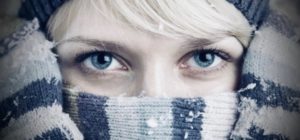 * * * * * * * *
I've always had a thing about snow. I've also always had a thing about chilling at home while everyone else is at work. This could be my lucky week.
I've even gone as far as to make a quick post-it note list of things I'd like to get done during my possible snow-day tomorrow. Why mess around with weather predictions when wishful thinking will do just as well.
Meanwhile, Nat has trudged down to the shed at the bottom of our garden, in her pyjamas, to fetch our garden spade. 'In case I'll need to dig the car out,' she says, pre-empting my question.
'OK,' I say.
She stands the spade up in the hallway, next to her rucksack of emergency clothing. Later, I wander past her Shrine to Winter, and place my mountain trekking boots neatly next to her bag.
'Thank you,' she says, 'but I probably won't need those.'
'Take them anyway,' I say, 'And if you do find yourself walking a mile in my shoes, perhaps you could pick up a bottle of wine?'
* * * * * * * *
The next morning, we both get out of bed together and rush over to the window to squint between the blinds.
'Thank god' says Nat. 'No snow.'
'Bugger!' I say.
* * * * * * * *
UPDATE: twenty-four hours later: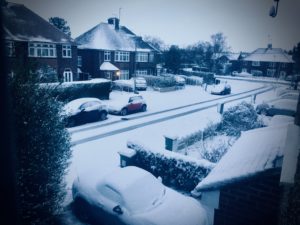 SNOWMAGEDDON!!!
* * * * * * * *