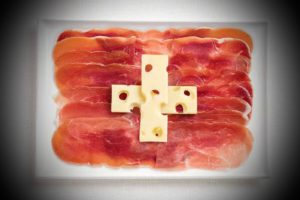 'It might not taste very nice but it is
good for you,' says Nat.
'What is it?'
'My husband's cooking.'
'I'm still in the room,' I remind her.
* * * * * * * *
We currently have the in-laws staying with us. Well, technically, they're my in-laws; Nat would most probably refer to them as her actual parents. They're staying with us for a few days, having just arrived back in the country from Switzerland.
'I made him cook,' says Nat.
'I volunteered,' I say.
'I set it all out for him,' she says, 'so that he couldn't mess it up.'
'I'm sure it'll be lovely,' says Nat's mum.
'It would probably have turned out even better if Nat had learned to write properly.' I say. I reach behind me to pick up the written instructions that Nat had left for me this morning. 'Would you say that this says three teaspoons full or five?' I ask, pointing.
'It's a three,' says Nat's mum.
'I look back at the note. '… Still looks like a five to me,' I say. 'I hope that everyone is a huge – and I do mean a HUGE – fan of paprika.'
'I'm sure it will be lovely,' Nat's mum repeats.
'She also didn't say whether the teaspoon measurements should be level ones or piled ones so, good luck with your meal!' I hand my in-laws the serving utensils. 'I'll leave it to you to decide whether you'd like to say Grace or merely move on to The Last Rites.'
'I'm sure it will be …'
'… Best to reserve judgement,' interrupts Nat, smiling at me.
'I refer you to my previous 'I'm still in the room',' I say.
'I'm sure it will be …'
'… As am I,' I say. I raise my wine glass. 'To paprika.'
'Paprika,' says everyone, as we clink glasses.
We all tuck in. Ten minutes and no deaths later, people are still eating. I consider this a success. 'I'm thinking of starting up my own cookery programme,' I say. 'Cooking without Boundaries.'
Nobody responds.
I take the fact that nobody responds negatively as, well, a positive.
* * * * * * * *
Over desert (which I didn't make), Nat's Mum pulls out a package from her bag. 'I saw this while we were away, and thought of you,' she says.
'What is it?' asks Nat, looking over at my gift. Her mum is smiling as she watches me tear open the layers of wrapping.
As soon as I've removed the final paper, Nat's mum leans across the table and quickly squeezes my gift. 'Touché,' she shouts, as it bursts into song. 'Now, you too have a yodelling beaver, just like mine.'
As I write this, it occurs that it is not a sentence that I would have ever expected from my mother-in-law. Indeed, this is not a sentence that I would ever expect from anybody's mother-in-law.
'Thank you,' I say, and smile at her. I glance over at Nat's dad but he's busy studying the wine bottles. 'How is your beaver?' I enquire, looking back at her.
'It still makes those funny sounds,' she says, 'though I have to keep it out of the way of the grandchildren; tiny hands and all that.'
'Absolutely I say. 'You're welcome.'
'I like my beaver,' she says,'
That makes two of us,' I say.
'More vegetables?' asks Nat. 'MORE VEGETABLES?'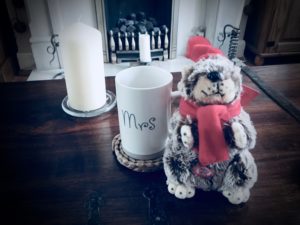 * * * * * * * *
____________________________________________________________________
IF YOU ENJOYED THIS ARTICLE, PLEASE CONSIDER SHARING IT ON YOUR SOCIAL MEDIA PAGES FOR OTHERS TO ENJOY TOO. (Even us poor writers have to eat!)
YOU CAN ALSO FIND MY TWO CURRENT BOOKS, *Random* AND *The Sat Nav Diaries* ON AMAZON: https://www.amazon.co.uk/Adrian-Sturrock/e/B07QQDZMKQ?ref=dbs_p_pbk_r00_abau_000000
____________________________________________________________________